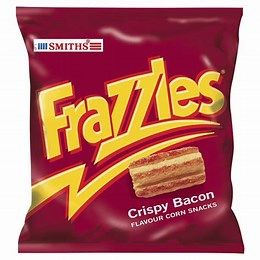 Frazzles(18g)
Crispy Bacon Flavour Corn Snack.
- Did you know your favourite Frazzles have been around since 1975
- These crispy, crunchy bacon flavour bites are as delicious now as they have always been!
- Perfect snacks for lunch and snacking
- Suitable for vegetarians
- Smith's iconic snacks include Frazzles and Chipsticks
From humble beginnings as an apprentice greengrocer, Frank Smith went on to establish his own snacks company in 1920. Smith's crisps soon became a household name - a staple in every soldier's ration bag in World War II. By 1949, nearly every pub in Britain stocked Smith's and it remains a household name to this day, famous for creating many iconic snacks including Frazzles and Chipsticks.